Reviews
Button Style Safety Replacement Plug - Blue
The plug isn't as clean looking as depicted in the photo. This also takes some fitting which is not mentioned anywhere but should be in the description. The note with the plug gives 2 options to fit it. 1) use the supplied drill bit which in my case would have been too large for my pin to work. 2) put the plug in the hole and "scratch a mark then use a round file" to get proper fit. Though I have a miniature file set it definitely wasn't small enough for the task. Thankfully have a good set of punches and was able to get enough of a mark to use a cutoff wheel on my Dremel to cut a very small and shallow groove. ...
Date Added: 06/26/2023 by Craig E.
¾ Size Big loop lever - Stainless
I had to do some grinding on the part that pushes the feed ramp up, as it was so out of proportion that the rifle wouldn't chamber a round. That, plus rossi sells a stainless large loop lever now for a quarter of the price. Oh well, you live and learn....
Date Added: 06/13/2023 by John W.
Adjustable Bolt-Mounted Stainless Peep Sight Safety Replacement
I followed the instructions from the video. Should have been a very simple replacement of the factory safety, then sight in the gun. The machine fit was absolutely horrible. After the installation the thing wobbled so badly that I thought is was going to come out of the gun, the pin barley held it in the bolt. I'm sure he means well with his parts but this one is a no go. Pulled it out and installed the blank plug. Completely dissatisfied :(...
Date Added: 04/03/2023 by Glen D.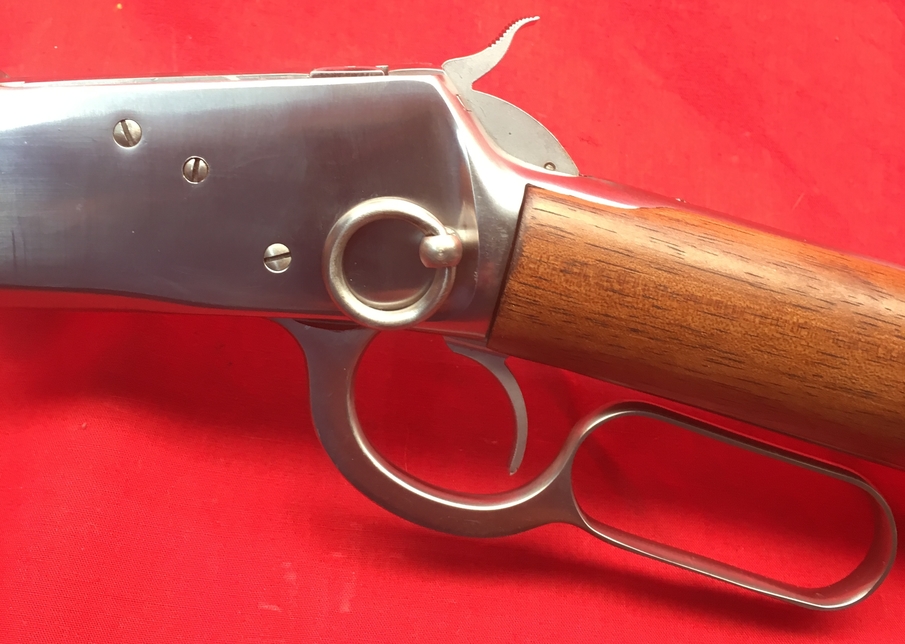 "No GunSmithing" Saddle Rings - STAINLESS
Nicely made. Looks like original equipment. Easy to install.
Date Added: 09/11/2022 by Barry V.
Button Style Safety Replacement Plug - Stainless
A two minute install for me to lose that stupid litigation lever. Love it!
Date Added: 09/11/2022 by Barry V.
"No GunSmithing" Saddle Rings - BLUE
Extremely easy to install. Looks picture perfect, just what I hoped for and more. I highly recommend this for your Rossi Lever gun! Awesome people to deal with, very responsive and professional!...
Date Added: 02/20/2022 by Scott P.